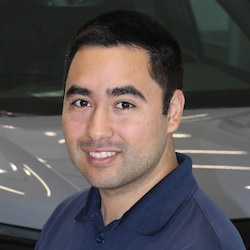 In the fast-paced world of automotive branding, innovative leaders who blend tradition with modernity are essential for success. Aaron Garcia, the Brand Director at Hill Country Honda, embodies this dynamic combination with his deep-rooted connection to San Antonio's history, tech-savvy nature, and unwavering passion for automobiles. With an impressive academic background and a penchant for unboxing electronics on YouTube, Aaron brings a unique perspective and valuable expertise to the dealership, contributing to its growth and excellence in the ever-evolving automotive industry.
A Proud Heritage and Academic Excellence:
Aaron Garcia's connection to San Antonio runs deep, tracing back to the first 16 families that settled in the area in 1731. This rich heritage instills in him a profound sense of pride and fuels his commitment to the community. In 2013, Aaron graduated Magna Cum Laude from the University of the Incarnate Word, earning a Bachelor's degree in Communication Arts. This academic achievement reflects his dedication to excellence and lays the foundation for his future successes.
Tech-Savvy Content Creation:
When Aaron isn't immersed in the automotive world, he indulges in his passion for technology by creating unboxing videos on YouTube. With an impressive following and over 385k+ views, Aaron's channel showcases his expertise and passion for the latest gadgets. His commitment to staying ahead of technological advancements aligns perfectly with the ever-evolving automotive industry, enabling him to bring fresh perspectives and innovative ideas to Hill Country Honda.
Automotive Enthusiasm and the Honda Civic:
As an automotive enthusiast, Aaron Garcia has an unwavering appreciation for the art of vehicle design and performance. Among the Honda lineup, the Honda Civic stands out as his favorite model. The Civic's sporty turbocharged engine and optimal fuel efficiency captivate him, representing the perfect balance between exhilarating power and responsible motoring. Aaron's enthusiasm for the Civic allows him to connect with customers who share his passion, making their buying experience more engaging and enjoyable.
The Fusion of Tradition and Modernity:
Aaron's ability to blend tradition and modernity is evident in his role as Brand Director. By honoring the rich heritage of the San Antonio community while embracing the latest technological advancements, he ensures that Hill Country Honda remains at the forefront of the industry. His diverse interests and expertise enable him to create effective branding strategies that resonate with customers, both young and old, appealing to their values and aspirations.
Contributing to Hill Country Honda's Success:
Aaron Garcia's unique perspective, deep appreciation for tradition, and tech-savvy nature make him an invaluable asset to the Hill Country Honda team. His innovative ideas, combined with his ability to understand and connect with customers, contribute to the dealership's growth and success. Aaron's presence ensures that Hill Country Honda remains a cutting-edge destination for automotive enthusiasts, offering not only exceptional vehicles but also an exceptional customer experience.
Conclusion:
Aaron Garcia's fusion of tradition, technology, and automotive enthusiasm creates a powerful blend that propels Hill Country Honda forward. With his San Antonio heritage, academic achievements, tech-savvy content creation, and passion for automobiles, he brings a unique perspective and valuable expertise to the dealership. Aaron's ability to bridge the gap between tradition and modernity allows Hill Country Honda to thrive in the ever-changing automotive landscape, offering customers a remarkable combination of heritage, innovation, and exceptional vehicles.