Brian Gomez, the Finance Manager at Hill Country Honda, is a San Antonio native with a passion for customer satisfaction. With years of experience in finance and a love for culinary arts, Brian brings a unique perspective to his role at Hill Country Honda.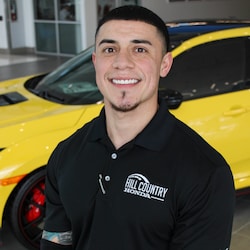 As a loyal fan of the Philadelphia Eagles, Brian understands the importance of team dynamics and bringing a winning attitude to everything he does. He is also an avid gym-goer, enjoying pumping iron to stay fit and healthy. His favorite Honda model is the classic Civic Type-R, known for its sleek design and performance capabilities.
One satisfied customer, Amorita Berry, had a fantastic experience working with Brian during her recent visit to Hill Country Honda. Despite having no intention of getting a new car, she left feeling completely satisfied with her purchase, thanks to Brian's honest, friendly, and non-pushy approach.
At Hill Country Honda, Brian is committed to providing a seamless and stress-free financing experience for his clients. He understands that purchasing a car can be a daunting process and works tirelessly to ensure that his clients receive the best possible financing options. He takes the time to understand his client's unique needs and preferences, going above and beyond to exceed their expectations.
Brian's love for culinary arts translates into his approach to financing, where he combines his knowledge and expertise with a friendly and personable approach. He ensures that his clients understand the financing process and are comfortable with their purchase, making sure they don't feel robbed or pressured.
With his passion for customer satisfaction, team dynamics, and fitness, Brian Gomez is a valuable member of the Hill Country Honda team. If you're in the market for a new or used car and want a seamless financing experience, be sure to ask for Brian – you won't be disappointed.