Genesis Reyes, an experienced Client Specialist at Hill Country Honda, is dedicated to delivering exceptional customer service to every client she serves. Born and raised in San Antonio, Genesis brings her love of basketball and passion for automobiles to her role, making her a valuable asset to the team.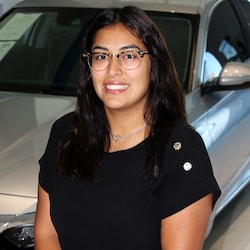 With a background in sales since 2016, Genesis has extensive experience in the automotive industry. Her in-depth knowledge of the Honda lineup makes her a trusted advisor for customers looking for their perfect vehicle. Her favorite Honda model is the Accord, known for its sleek design and performance capabilities.
One satisfied customer, Stephanie Ibarra, had a fantastic experience shopping for her sister's second car at Hill Country Honda, thanks to Genesis. She praised Genesis's friendly demeanor and expertise, recommending her to anyone looking to purchase a vehicle.
Genesis is committed to providing an outstanding car-buying experience for all clients at Hill Country Honda. Her attention to detail, commitment to customer satisfaction, and expertise in Honda vehicles make her a go-to resource for anyone looking to purchase a new car.
At Hill Country Honda, Genesis's welcoming presence and dedication to customer service are evident in every interaction with her clients. She goes above and beyond to ensure that every customer feels heard and understood, taking the time to understand their unique needs and preferences.
With her love of basketball, passion for automobiles, and commitment to exceptional customer service, Genesis Reyes is a valuable member of the Hill Country Honda team. If you're looking for a new vehicle, be sure to ask for Genesis – you won't be disappointed.