John Medelez, a dedicated Client Specialist at Hill Country Honda, brings a unique blend of military service, automotive passion, and sports fandom to his role. As a United States Air Force veteran and Texas Air National Guard, John embodies the values of discipline, integrity, and commitment to excellence.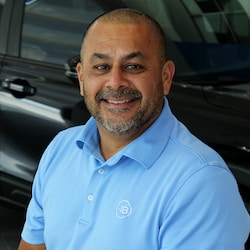 Outside of work, John indulges in his love for classic cars with his prized 1966 Ford Mustang, attends live music concerts, and passionately cheers for the Green Bay Packers. With his diverse interests and experiences, John is adept at building customer relationships and delivering outstanding service.
One satisfied customer, Alexia Arellano, had a fantastic experience working with John to purchase her new 2022 Honda Accord Sport. She praised John's commitment to excellence, customer service, and his willingness to go above and beyond to ensure she had all her questions answered.
At Hill Country Honda, John's passion for automobiles and customer service is evident in every interaction with his clients. He is dedicated to finding the perfect Honda for his client's needs, whether it's a fuel-efficient sedan or a family-friendly SUV. He also enjoys sharing his knowledge of Honda vehicles and their cutting-edge technology with his clients.
With his military background, John understands the importance of discipline, attention to detail, and commitment to excellence, which he brings to his role at Hill Country Honda. He is always willing to go the extra mile to ensure that his clients have a memorable and enjoyable car-buying experience.
John Medelez is a valuable member of the Hill Country Honda team, bringing his passion for customer service, classic cars, and sports fandom to his role. If you're looking for a new Honda or simply want to discuss your automotive needs, be sure to ask for John – he won't disappoint.