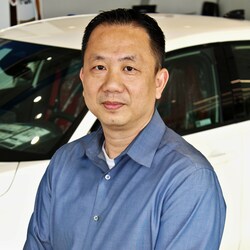 In the dynamic world of automotive sales, exceptional leadership and a commitment to customer satisfaction are paramount. Kevin Tran, the General Sales Manager at Hill Country Honda, personifies these qualities with a fascinating background and an unwavering dedication to providing customers with an outstanding dealership experience. Born in Vietnam and raised in California, Kevin's journey to his current role is marked by remarkable achievements, diverse interests, and an indomitable spirit.
A Multifaceted Journey:
Kevin Tran's journey to becoming a General Sales Manager at Hill Country Honda is a testament to his drive and determination. Born in Vietnam, he moved to the United States during his teenage years and settled in California. It was there that he pursued his academic and professional aspirations, attending the prestigious University of Irvine, California. Excelling in both spheres, Kevin's exceptional skills and dedication catapulted him to becoming the youngest Vice President for Banking at the age of 25. This early success laid the foundation for his future achievements in the automotive industry.
Passions Beyond the Office:
While Kevin's professional life is impressive, his personal interests and hobbies paint a vibrant picture of his character. When he's not leading the team at Hill Country Honda, Kevin finds solace in his passion for competition shooting and the melodic notes of the trumpet. These diverse pursuits demonstrate his ability to balance precision and artistry, a quality that undoubtedly translates into his approach to customer service. Moreover, Kevin's unwavering dedication as a passionate fan of the Lakers showcases his commitment to loyalty and teamwork, qualities he carries into his role as a leader.
A Champion of Customer Satisfaction:
At the core of Kevin Tran's success is his unwavering commitment to customer satisfaction. As the General Sales Manager, he takes great pride in providing customers with a fantastic dealership experience. Kevin understands that purchasing a vehicle is a significant decision, and he works tirelessly to ensure that every customer feels valued, heard, and supported throughout the process. His extensive industry knowledge and personalized approach contribute to a seamless and enjoyable journey for each individual who walks through the dealership's doors.
Honda Accord Hybrid: A Reflection of Excellence:
Among the impressive lineup of Honda vehicles, the Accord Hybrid holds a special place in Kevin's heart. Its combination of efficiency, style, and advanced features resonates with his values of excellence and sustainability. Kevin's personal admiration for the Accord Hybrid allows him to showcase the vehicle's strengths and connect with customers on a deeper level. His expertise, paired with his genuine passion for Honda vehicles, fosters trust and confidence in the buying experience.
A Respected Leader, Inside and Out:
Kevin Tran's influence extends beyond the confines of the dealership. His leadership style, marked by integrity, professionalism, and a genuine desire to help others succeed, has earned him the respect of his colleagues and the wider community. Kevin's dedication to his team's growth and well-being has cultivated a positive work environment, empowering his colleagues to deliver exceptional customer service.
Kevin Tran's remarkable journey, from his Vietnamese roots to his current role as the General Sales Manager at Hill Country Honda, is a testament to his unwavering commitment to customer satisfaction and personal excellence. His diverse background, multifaceted interests, and genuine passion for the automotive industry make him a highly respected leader within the dealership and the wider community. With Kevin at the helm, Hill Country Honda continues to elevate the customer experience, ensuring that each interaction is nothing short of exceptional.