Steve Davis, a Client Specialist at Hill Country Honda, brings over 18 years of automotive experience to the team. Having lived in various places, including Korea, Hawaii, Denver, and Massachusetts, Steve has a diverse background and a keen understanding of different customer needs.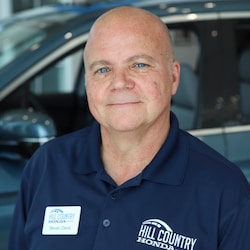 As a passionate sports fan, Steve particularly enjoys following the Miami Dolphins. He brings the same level of enthusiasm and dedication to his role at Hill Country Honda, where he is committed to helping customers find the perfect vehicle to meet their needs and preferences.
Before joining the Hill Country Honda team, Steve worked at a Toyota dealership, where he gained extensive experience in the automotive industry. However, his love for Honda vehicles led him to transition to Hill Country Honda, where he is thrilled to continue serving customers with exceptional service and expertise.
One happy customer, Izzie, had always been a Toyota or Lexus fan but was thrown into a frenzy when her husband totaled her car. She researched Toyotas and decided to look into Honda vehicles, where she was introduced to Steve Davis in sales. Steve was patient with her multiple questions and indecision between cars, helping her find a vehicle that met her needs and budget, without any pressure to hurry and make a decision.
Izzie grew confident in Hill Country Honda's commitment to helping her find the right car, and was impressed with the teamwork and support provided throughout the entire buying process. Unlike her previous car-buying experiences, Izzie was able to drive home her new Honda without spending hours at the dealership.
With his wealth of experience and dedication to exceptional customer service, Steve Davis is a valuable asset to the Hill Country Honda team. He is always willing to go the extra mile to help customers find their perfect car and make the car-buying process as smooth and stress-free as possible.