Elijah Alvarez, a skilled Client Specialist at Hill Country Honda, is a proud Texan with a passion for Honda vehicles. Originally from Hereford, Texas, Elijah brings his enthusiasm for sports to his role, with a particular love for the Dallas Cowboys. However, his love for automobiles runs deep, and he is committed to helping clients find their perfect Honda at Hill Country Honda.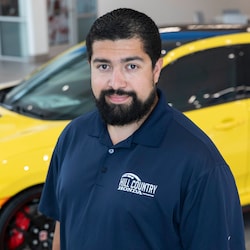 As a bilingual speaker of both Spanish and English, Elijah can communicate effectively with diverse clients, making sure that every customer is heard and understood. He is also a proud alumnus of John Marshall High School, which has instilled in him a strong work ethic and a commitment to excellence.
In his leisure time, Elijah enjoys outdoor activities such as fishing, kayaking, and Brazilian Jiu-Jitsu. He believes that staying active and engaged in activities outside of work helps him stay focused and energized, allowing him to provide the best customer service to his clients.
Elijah's exceptional customer service skills are well-known among his clients. He is always willing to go the extra mile to ensure that every customer has a positive and enjoyable car-buying experience at Hill Country Honda. His knowledge of Honda vehicles is unparalleled, and he takes great pride in helping clients find their perfect car.
One happy client, Josue, had an incredible experience at Hill Country Honda, praising the staff's accommodation, enjoyable presence, and respect for his time. Elijah personally helped Josue find his dream car and was always available for any questions or concerns. Josue highly recommended Elijah to anyone looking for a new vehicle.
When it comes to Honda vehicles, Elijah's favorite model is the Honda Civic Hatchback. He loves its sporty and versatile design, which appeals to both his practical and aesthetic sensibilities.
Elijah Alvarez is a true asset to the Hill Country Honda team, bringing exceptional customer service skills, a love for automobiles, and a passion for helping clients find their perfect Honda. If you're looking for a new vehicle, be sure to ask for Elijah – you won't be disappointed.